Description
Dell Latitude e6440 Laptop PC. Keep your productivity high with this budget friendly Latitude e6440 laptop. These fast and capable laptops are equipped with an i5 processor and 8GB of RAM to ensure the best computing possible. Get online quickly with the built-in Gigabit Ethernet port. This laptop is rugged, dependable and infused with Wifi to get you online wirelessly at home, in class or your favorite local park.
Intel Core i5
The most popular quad core processor contained in many versions of personal computers is the Intel Core i5. The i5 processor has up to 6MB of cache, reducing the average time and energy needed to access data from the main memory. i5 processors utilize a feature called Turbo Boost. Turbo Boost allows for dynamic overclocking, boosting faster processing speeds, under taxing situations. The Core i5 processor is more than sufficient enough to handle photoshop, gaming and easily breeze through day to day activities.
14 Inch Screen
Providing the best balance of portability and usability the 14in screen is the perfect fit for kids, business professionals and the casual web surfer. With the smaller screen size comes a smaller footprint, which means the computer requires less memory when running.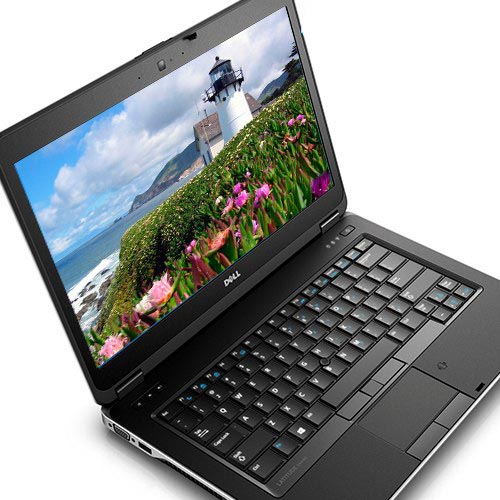 4GB RAM
The more RAM, the more information a computer can work with at the same time. This generally creates a heightened performance experience. If you consider yourself an avid gamer or a video creator 4GB of RAM is a must have. Whether you are editing video, playing games or using photoshop, 8GB will meet your expectations.
SSD
Five times faster and working more efficiently than the conventional hard-disk drives, the solid-slate drive is the best way to upgrade the speed of any PC. Solid-state drives have no moving parts, therefore there is less of a chance of physical failure and no sound associated with its operations.
DVD-RW
The DVD-RW is great for playing your favorite movies, allowing for this fast and portable laptop to pack an entertainment punch. Not only can this laptop read DVDs it can also write DVDs, giving you the ability to burn family pictures to a concrete platform.
Ports and Slots
4 USB 3.0- The USB 3.0 is ten times faster than USB 2.0, saving you much needed time during long transfers. The USB 3.0 is used for various activities, such as, charging your phone, plugging in mice and keyboards as well as downloading photos and videos.
HDMI & VGA- Having the ability to display your videos and computer screen to multiple different platforms is a must have in the 20th century. And this laptop is fully prepared to do just that, having both HDMI and VGA ports. HDMI ports are installed on all TV's and most computers. They are easy to use, cheap and they also carry audio. VGA outputs allow you to connect your laptop to a second monitor, increasing overall production.
Docking Connector- The docking connector allows for the laptop the be placed in a docking station. Docking stations enable laptop users to convert it into a desktop computer when at home or at the office.
LAN Port- The LAN (Local Area Network) port allows for quick connection to your local network or ethernet, by plugging directly into the laptop itself.
Headphone and microphone - This laptop includes ports for connecting your headphones and listening to your favorite music as well as making voice calls with programs like skype.
Windows 10
The world's most popular operating system. Windows 10 is used in personal computers, tablets, and in internet of things devices. The start menu is back, and Microsoft Edge replaces Internet Explorer and includes tools such as Web Notes, which allows users to write on visited websites, as well as Reading View, which allows users to view certain websites without the distraction of ads. In addition to the added browsing improvements, Windows 10 has the Microsoft Xbox app-built in. Gamers never have to leave their computer to play games, edit profiles, check messages, access achievement lists or see friend's recent activity. Windows 10 will drastically outlast other Windows systems, due to its new technology not requiring a full-fledge system replacement with each improvement.
SPECIFICATIONS
Upgrade your life with the Dell Latitude E6440! This powerful and fast laptop is the perfect blend everyday warrior and fast work productivity machine.
FEATURES
Operating System: Windows 10 Professional is Installed and Ready to Use!
CPU: Intel i5 2.5GHz
Ram: 4GB Memory (More than enough Memory for Heavy multi-tasking)
Hard Drive: 128GB SSD
Optical: DVD-RW Drive (Plays and Writes DVD's, CD's, Movies, Software and More)
Ports: USB, VGA and More
What's Included:
Dell E6440 Laptop Computer
Power Supply
Paperwork (Official Microsoft License)
Operating System Restore Partition
View All
Close
Warranty Information
1 Year Warranty, 99.5% Positive Feedback Score on Over 14,000 Customers this Year!
View All
Close
Additional Information
| | |
| --- | --- |
| Manufacturer: | Dell |
| Make: | Latitude |
| Model: | E6440 |
| OS: | Windows 10 |
| Edition: | Professional |
| Processor: | Intel i5 |
| Graphics: | Integrated |
| Memory: | 4 GB |
| Storage: | 128 GB |
| Warranty: | 1 Year Warranty From A Microsoft Authorized Refurbisher |
View All
Close